Raster To Vector Services
Quick and Affordable
The art conversion methods so the final output is of the highest quality. Super Fast Delivery!
Remove the background
White or Transparent or Existing
Resizing & Optimize
Crop, Margin & Alignment​​
Retouching & Color Correction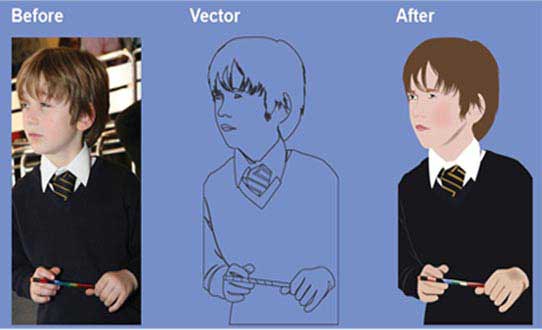 How Does GH Work for Raster To Vector Services?
1. Get 3 Images Free Trial
We love to show our expertise before made orders! Take the chance and apply for our Free Trial Offer. You 'll be glad you did! Happy with our test works? Let's start business together.
2. Upload Your Images it's Easy
Once you were happy with the quote. You can upload your images via Wetransfer.com, Dropbox, FTP, or any other file share system. We are highly familiar with any files transfer system.
3. Get Done Images within Desire Timeline
You will get done images within 24 hours. If you have discussed express delivery, then you will get done pictures within the timeline. In case you don't like any edited files! Just ask for a redo. We have unlimited revision options.
4. Happy! & Paid The Order
If you are happy with the order, we will send you an official invoice. You can able to make payments through PayPal, credit card, or bank transfer.
100% Free Trial! 3 Images Done-30 Mins
testimonials
What Are Customers Saying Our Works?
Do Live Chat Now & Confirm Your Discount. Sorry! But Only for New Customers.
"I am a publisher, and I am using Graphics Handy services for six years with much satisfaction. I always good wishes for Graphics handy team."
"Great job, high-quality services, and speedy turnaround time. We will use Graphics Handy again in the future! I will definitely recommend them"
" Amazing & very affordable price. I like the support team. I am using their services regularly and recommend others to check out Graphics Handy skills. "
" The dependability appeared by the photograph altering group is especially calculable. Been working with the cut-out in Asia for around four years now. they recognize what they are doing. "
Our raster to vector services makes the conversion process easy and painless. With other conversion processes, it's going to take a long time, and often with unacceptable results.
Not here, though, as we use state of the art conversion methods, so the final output is of the highest quality.
What You Can Expect From Us
Once the raster image has converted, the file will be 100% vector and can be scaled without distorting the outline or other elements. The final output can then be used for any number of applications such as:
 

Architectural lettering

 

Business logos

 

Cards

 

T-shirts

 

Banners

 

Artwork
The result is there won't be any jagged or pixelated edges to the images, and it's going to look smooth regardless of how you scale it.
No matter the type of raster image you have, you can be confident, the results will be high grade and professional quality for the following reasons.
 

We have done work for designers, illustrators, sign companies and websites

 

Our team is highly trained in the conversion of raster to vector

 

Manual and auto-tracing options are both available

 

We are trusted by print and sign companies around the world

 

We have years of experience using vector and raster images

 

Satisfaction guaranteed
We can work with large file sizes, and we know how to optimize the results, so the final output is just how you want it.
Raster and Vector Graphics Comparison
See more details raster vector software comparison.
Vector Graphics
 

Best for technical and scientific illustrations, drawing geometrical shapes, paintings, and drawings

 

Can be printed in any resolution or size

 

Colors are easy to add and replace

 

Not ideal for images that require continuous color tone or for photo editing
Raster Files
 

Ideal for editing photos and blending soft colors

 

Ideal for creating complex images

 

Suitable for editing photos

 

Used for posting pictures on the web

 

Detailed images produce huge files

 

Cannot be scaled without losing quality
There is no competition between the two since they serve different purposes. There are instances wherein you can combine the two.
GraphicsHandy.com Raster to Vector Service – We Convert Your Raster Files To Vectors, Fast & Affordable
As has been pointed out above, there will be times when you will use raster and other times when vector files will be more appropriate.
With our raster to vector services, you are assured of getting the best results. Whether you're going to use the final output for your business or artwork, there won't be any issue concerning the quality as it will be top-notch.
What is Raster Graphic?
A raster file is an image comprised of thousands or millions of tiny squares called pixels. These pixels contain information about color and make up the image.
If you are a bit confused because the term pixel is also used to refer to a computer monitor's dimensions, don't be because they are interchangeably used.
There are many types of raster files, but the most common is a photo, usually created in a photo editing program.
Raster files come in different formats such as .gif, .jpg, .jpeg, .png. .tiff, .psd, and .bmp. The term bitmap is often used to refer to raster files, but actually bitmap refers to .bmp, one of the many raster file formats.
Pros
Lots of detail: raster files can store a lot more information. The word dpi is often associated with raster graphics, and it refers to the dots per inch in the image.
Meaning, if an image has a 450 dpi, it means there are 450 color squares in the picture, providing shade and making even small details stand out.
Accurate editing: raster images can be edited down to the last pixel. With a good photo editing program, you can adjust every aspect of the image, customize it, and apply effects, and so on.
Cons
Scaling blurs the image: this is the biggest drawback with raster files because resizing will give the graphic a grainy, pixelated appearance.
That is understandable because when you create a raster file, there are a set number of pixels in it. If you scale the image up, the program has to fill in the gaps by adding more colors, and due to the imprecise nature of this calculation, the image ends up looking blurry.
Large files: the amount of detail present in raster images has a price, and that is an enormous file size. A good-sized photo with a high dpi can be several megabytes in size and can bring your computer to a halt.
What is a Vector graphics?
A vector graphic relies on math to create shapes. With raster images, you paint shapes using pixels, but with vector, you draw with curves, lines, and points. Vector images are often used for logos, fonts, and technical drawings. Whereas raster files can have 300 dpi for a 1 x 1 image, a vector graphic has just four points for every corner. you can use vector converter online free.
Pros
 

Scalable: because vector graphics use mathematical formulas, they can be scaled up or down without any loss of detail. That is possible because the graphic relies on the same math equation and makes the proper adjustment. Vector graphics have separate shapes and layers, so they're easier to edit than raster.

 

Smaller files: vector graphics take up less disk space than raster files since the geometric shapes are more compact compared to pixels. That means you don't need as powerful a system to use vector graphics compared to a raster file.
Cons
 

Limited colors: vector graphics cannot produce the same subtle shades that raster files do. You can create color gradients, but it is impossible to replicate the color detail because you cannot work with angles.

 

Few effects and filters: since vector graphics are made with lines and points, it is not possible to apply sophisticated effects like those you see on raster graphics.