Image Background
Removal Services
Get Background Removal Service at 0.39/image. Quick 12 Hours Turnaround & 24/7 Live Chat Support.
Background Removal
White or Transparent or any Background
Resizing & Optimize
Crop, Margin & Alignment​​
Industries
eCommerce, Retailer & Photographers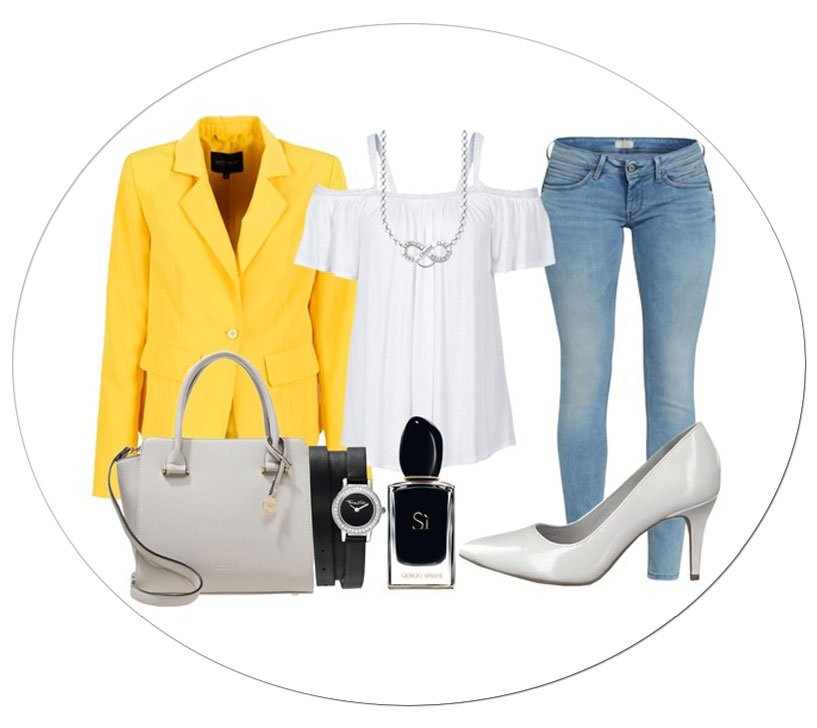 How Does Graphics Handy Work for Image Background Removal Services?
1. Get 3 Images Free Trial
We love to show our expertise before made orders! Take the chance and apply for our Free Trial Offer. You 'll be glad you did! Happy with our test works? Let's start business together.
2. Upload Your Images it's Easy
Once you were happy with the quote. You can upload your images via Wetransfer.com, Dropbox, FTP, or any other file share system. We are highly familiar with any files transfer system.
3. Get Done Images within Desire Timeline
You will get done images within 24 hours. If you have discussed express delivery, then you will get done pictures within the timeline. In case you don't like any edited files! Just ask for a redo. We have unlimited revision options.
4. Happy! & Paid The Order
If you are happy with the order, we will send you an official invoice. You can able to make payments through PayPal, credit card, or bank transfer.
100% Free Trial! 3 Images Done-30 Mins
testimonials
What Are Customers Saying Our Works?
Do Live Chat Now & Confirm Your Discount. Sorry! But Only for New Customers.
"I am a publisher, and I am using Graphics Handy services for six years with much satisfaction. I always good wishes for Graphics handy team."
"Great job, high-quality services, and speedy turnaround time. We will use Graphics Handy again in the future! I will definitely recommend them"
" Amazing & very affordable price. I like the support team. I am using their services regularly and recommend others to check out Graphics Handy skills. "
" The dependability appeared by the photograph altering group is especially calculable. Been working with the cut-out in Asia for around four years now. they recognize what they are doing. "
Want to isolate an object from its background?
No problem! As we offer a comprehensive background removal service. With our team of Photoshop experts, we will be there to make sure that whatever image you may have, the background will be seamlessly eliminated without affecting the foreground.
Background Elimination Explained
Also known as background subtraction or detection of the foreground, it is a process whereby the image's foreground remove for further manipulation. By foreground, we refer to objects of interest like cars, animals, text, and so on. An example would be an eagle (foreground object) flying against the backdrop of a scenic mountain (background).
In many instances, you will want only the foreground image, but this can be a difficult task, especially if you're dealing with complex models. That is where we can be of aid. Once the image has been eliminated, we can take the foreground image and use it for your image.
Adobe Photoshop offers several ways to remove images, and our team of editors is well versed in their use, so whether your image is simple or complex, we can do it for you.
Image Background Removal Services Features
There are several ways to make your photos look the way you want and use them for different purposes. In the examples below you can see different ways to remove/change the background, like shifting color, changing color and add a shadow effect, make the background transparent and isolate the object you want on the photo, to use it as you like.
Remove/Change Background To white Or Any Other Color
Changing the color of the background is a very useful editing feature, as it helps you make your photos comply with several third parties websites like Amazon and eBay, or any marketplaces where they require a white background. But you still can add any other color as a background for your own use.
Change Background Color And Add Shadow Effect For A 3D Look Of  Your Photos
Adding Shadow Effect can dramatically improve the clickthrough rate of your photos. It has been measured that photos with shadow effect, get more clicks than the same photos where the effect was not applied!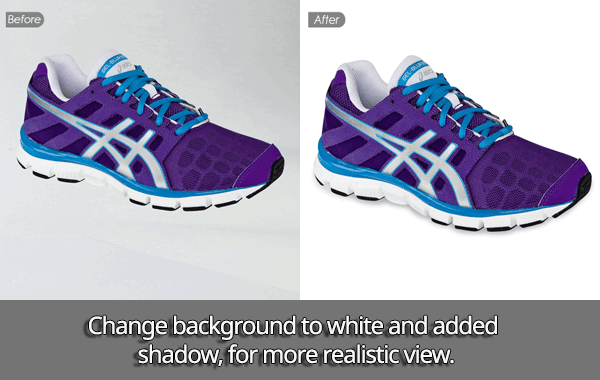 Completely Remove The Background To Isolate Any Object, To Use For Any Purpose
Completely removing the background and making it transparent, gives the ability to isolate any desired object on a photo, and so you can use the object you want for any purpose, like creating collages, paste it on another image.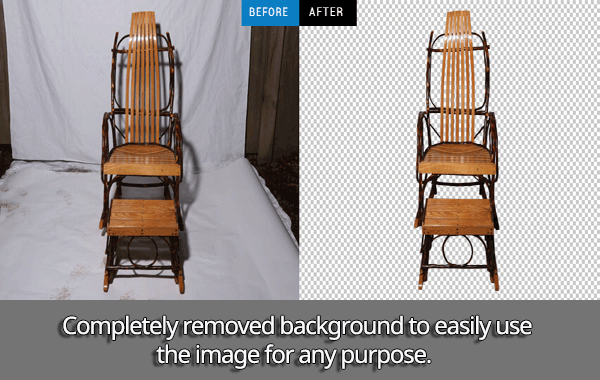 Our Methods for Eliminating Backgrounds
Photoshop is a powerful program that offers several ways to eliminate an image background, and we can provide them all.
Photo Clipping Path: The clipping path is the primary method we use. With the clipping path tool, we can make a vector shape over an image, and we use this to define an object.
The clipping path can be a useful tool only when used correctly, and that is the type of service we provide. Unlike those of other companies, all our Photo clipping services are handmade. So there is an optimum number of anchor points, resulting in a smooth cut. We are using the Photoshop Pen tool.
One of the most challenging aspects of background image removal is when remnants or background image artifacts are left on the foreground object. That usually happens with complex objects or when the background and foreground have similar colors.
The problem gets to solve, our clipping path service is done within the image and smooth out. Aside from basic clipping, we also offer clipping paths with transparent backgrounds, resize, color separation, and more.
Image Edge Refinement: Our service also includes refining the edge. When eliminating background images, it is often not enough to make a selection and cut out the background: that approach doesn't work, even if the background has a solid color. Look closely at the cut foreground, and you will see artifacts remaining.
To ensure the image is edited correctly, our teams use special techniques to refine the edges, so the pixels don't appear jagged even used viewed up close. If necessary, we can also correct problems with color bleeding, adjust the edges, and make various adjustments, so the final separation between the foreground and background is seamless.
 Pen Tool: This is another tool we use to cut the foreground from the background. Like the clipping path tool, it is mighty and one of the most ideal for creating complex paths. That is the tool we use to create complicated selections as it is more effective than the necessary mask selection tools.
 Mask Selections: Photoshop comes with several masking tools, and we know exactly what type to use and when to select the foreground and cut it. We can also use the same techniques to select the background and get rid of the background.
These are just some of the tools and techniques we use to get rid of an image background. Photoshop is the program that it is, there are a lot of ways to do the same thing, but often the question is deciding what method works best. That is where we come in because we know what tools to use and when to use them.
At this point, you are probably wondering if it is worth paying for these services. The answer is yes, it is. For starters, Photoshop is an expensive program that is beyond the reach of most people.
Second, Photoshop is an immensely powerful program, and it is very complicated. It takes years to master the program, and navigating through the menus can be time-consuming. If you need service right now, it is much better to have a professional look into it and perform the job.
As we have already explained, getting the technique right requires practice, and if it is not done correctly will be evident to anyone who sees it. Fortunately, our team of photo editors knows precisely how to use these tools, so by the time they're done, the results look perfect.
Service You Can Rely On Removing the background from an image is a standard procedure used in photo editing, and it can be applied for graphics design, creating logos, and so on. You would have seen this done several times, but ask yourself, how were you able to tell that the image was cut out and pasted in another model?
The answer is it was poorly done, and a foreground that has been crudely removed becomes obvious and looks amateurish. If you're going to use an image for your company ad, then you want to have the background removed in such a way you cannot tell the foreground was cut.
That is what we are here for, to give your image that professional look. Today's web users are computer savvy, and they can tell when an image has been heavily edited, and that is something you want to avoid. With the services we have here, you can be assured that when you avail of our background editing service, the results will look professional.
There are countless instances when you need to cut an object from its background, but it isn't as simple as it sounds. Often images have a complex environment, and simple selections won't do, and that is where we can help.
With our background removal service, we can take care of your needs and separate the background and foreground even if the image is intricate.